News
---
Spring has Sprung! It's our time to shine…
April 6, 2017
We've got the spring energy bug, even on the gray days. There's something about that cool breeze and the warm sun that is irresistible after winter's stay.
metalledwith is going on seven years as a registered business! What a joy it has been, and continues to be, to forage in the fresh newness each spring, to craft these botanical and metal (original) creations by hand, and to meet people from so many walks who appreciate and support my work. Thank you for being a part of this journey.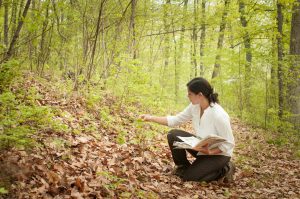 Now, we're not going away by any means, but the time has come for some changes. For all of its challenges, the benefits to working for oneself is flexibility. Like silly putty, metalledwith forms itself around where my life stage needs it (to you other self-propelled go-getters out there, I salute you!). Due to factors including an active toddler, you can expect to see me less at local craft shows. I'll be buckling down to offer more online and through wholesale relationships (feel free to spread the word). I'll be missing Foundry Day in our hometown of Boiling Springs this year, but I'm seeking new ventures by attending the Country Living Fair in Rhinebeck, NY. My 2017 event list is posted here on the website, so that you know how to catch us in person. You can also expect an array of workshops, classes and private lessons as we host more events at the studio.
In an effort to simplify, we're adjusting our prices on our standard pieces. Rather than some leaf jewelry being $38 and some $42, you'll be able to find this work at a standard $40 (this should really help bookkeeping!). Partnerships with local galleries are also in flux as I concentrate on being intentional so that you're getting the freshest creations my hands can put together. metalledwith no longer has a presence in Carlisle, but I'm excited to be working with Hershey Gardens in their new conservatory by crafting wearables from the garden's home grown plants! You can expect to see these later in the year as we're currently in the collection phase.
Our story began with the Eastern Woodlands collection. It was the first work we put out, the likes of which had never been seen. Those little, handpicked, native tree leaves encased in resin and surrounded by handmade metalwork represents who we are as a business–local, natural, small, environmentally conscious and made by hand. Now I invite you to participate in the process by joining me for two events. On Earth Day, provided the weather cooperates, we will go on a foraging walk together. We'll learn tree names, collect specimens and learn how to preserve plants. Then on May 4 or May 10, join me for a class on how to make your own pressed leaf pendant. The secret will be out! After numerous requests to teach my methods, it's time. You don't want to miss this.