News
---
Initiation Rites
July 14, 2017
I recently had the opportunity to work on a few custom projects that all went to the same home. It began with a gift from a grandmother to her granddaughter on the occasion of her baptism. Not being familiar with jewelry for infants (but very aware of potential hazards), I considered something like an ID bracelet once common for infants. To incorporate the significance of the baptism, I created this silver sheet metal soldered brass cross and silver nameplate.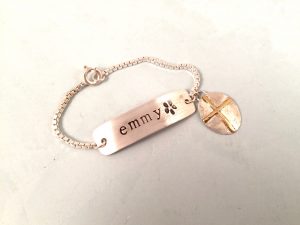 A few months later, the child's older brother was taking his first holy communion. The parents wanted to give him something to commemorate the event. Echoing the style of the bracelet, I flipped the brass and silver elements on the cross and again included a name tag, both on a silver chain necklace.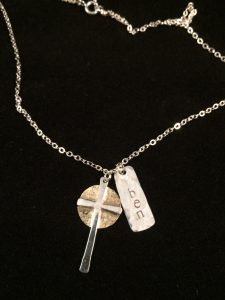 Soon after that, the eldest son was ready for confirmation. (It was a busy year in the church for this family!) Favoring Saint Francis of Assisi, this young man was interested in a tau cross. With an eye to the value of simplicity specific to this case, we decided on copper and greek leather. The unseen back of the pendant is silver.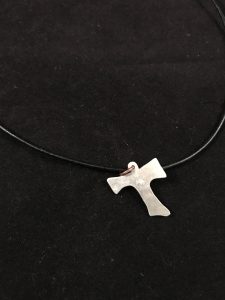 I can't quite put into words how the completion of these three projects and the way they go together feels. This is the joy of custom work. I'm grateful for the opportunity to create these symbolic pieces for each of these siblings.