News
---
Chasing/Repoussé Leaves
February 2, 2018
2018 is a year of change and with those changes, some new goals. One main challenge this year has been to create metalwork apart from jewelry. It's long been on the wish list, but when there's a business to run, it gets left in lofty dreamland. Last year, we signed up to join PCCA's Art on Tour program with a promise of five small pieces of wall hung artwork.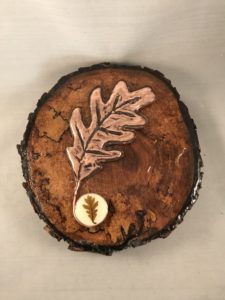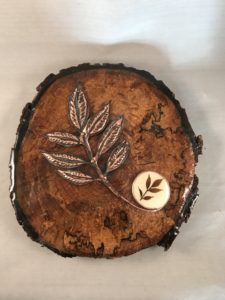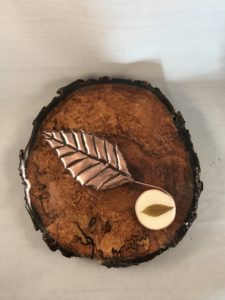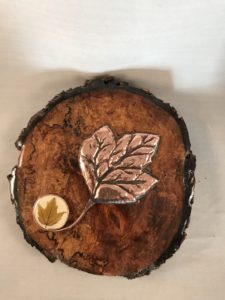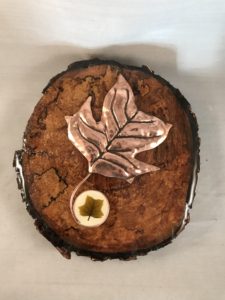 From start to finish, this has been an informative process. The planning stages of design, the techniques to learn and implement to create the forms and solve other design challenges such as 'how does it hang?' 'what should the mounting surface and technique entail?' have all contributed to my understanding of project planning to project completion. A bonus of these projects is that I get to learn a little bit more about woodworking from my better half, who helped me to create the log section "frames" and keyhole mounts.
I knew I wanted to create five leaves common to my local woods. I based the design off of a previous fold formed copper leaf I created a few years back. I wanted a bas relief surface and to include a resin real baby leaf to accompany the copper leaf form. In my previous work, I had riveted the leaf to an architectural sample and frame. This time, I chose log cross sections–slices from a cherry log, finished with resin as my background. Backgrounds are huge for the overall effect of a piece. I would likely create my own background again, but might switch up the style for a more modern look in another iteration of this new work.
The first step was to cut copper sheet and begin to prepare for chasing the leaf design. Chasing is the process of adding the defining lines to the front of the piece. Repoussé is hammering the back to create volume between those lines. These processes take place on a pitch bowl, which provides adequate resistance to inform the metal without tearing it. I chose red maple, tulip poplar, beech, white ash and white oak as my leaves. I love beech trees, but their new growth is too large to use in the eastern woodlands jewelry line. Both the tulip poplar and maple leaves were even more attractive on the backside–the leaf veins almost looked human-like. This was the bulk of the work and time for this project.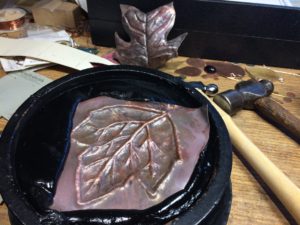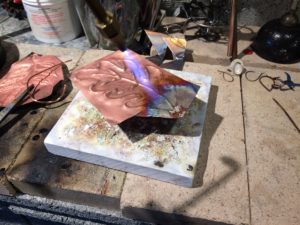 Next was to solder the stem. I had difficulty getting a proper set up and even attempted a turn to the iron over the torch before I solved my mass-ive problem. I was joining a 12 gauge wire to a large piece of copper sheet. It wasn't until I put an enameling trivet underneath the leaf and on top of a solderite pad that I could get the silver solder to sweat and flow. Then I introduced the wire. Then came the piercing with a 3 size saw blade. After everything was cleaned and polished, I used a rolling mill to flatten out the stem wire and create the form for the resin work.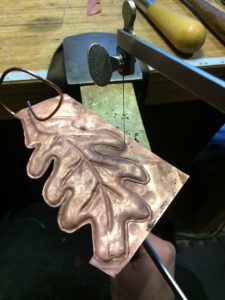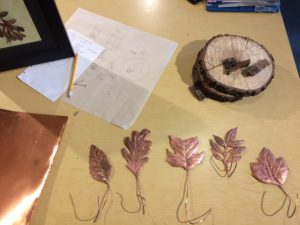 A multi stage resin application and curing finished out the resin work. I mounted the leaves by riveting to the log sections which had been finished with resin and keyholes routed in the back for hanging.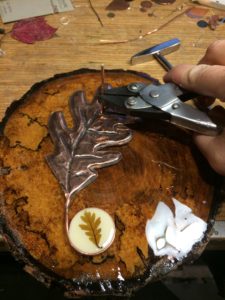 Overall the pieces go well together. I can visualize them on a clean white wall in a living room over a fireplace with other nature themed design in the room. If I did this again, I would opt to whitewash the log sections, or switch to a traditional frame. The dark resin on wood feels a bit more retro than I intended. Still, great lessons were learned and I got to stretch a creative muscle that's been begging for something a little bit different. Leaves are on display as a part of PCCA's Art on Tour program in multiple locations through October.