News
---
2018 for metalledwith
February 2, 2018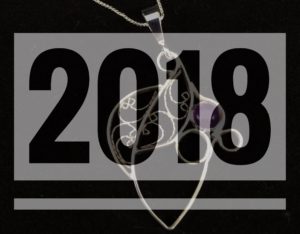 It's another year of transition for metalledwith. As this one-woman-run business looks forward to welcoming a new member to the family, some changes will be reflected in our schedule this year as Richelle also balances life as a full time parent of two! Here's what you can expect.
Shows: We're pulling way back on shows this year. Find us at our hometown show, Foundry Day in Boiling Springs on June 2. We'll also attend Mother Earth News Fair in Seven Springs in September, and expect to do some of our normal holiday events in the Carlisle area come early December.
Exhibits: One exciting development and benefit in this season of change is that we're pursuing some other interests and areas of art. We are participating with Perry County Council of the Arts (PCCA)'s Art on Tour program and have developed a five-piece exhibit of wall hung artwork. We're also participating in Carlisle Arts Learning Center's Member Show from Feb 9-Mar 10. Also through PCCA, one of our pieces will be in an exhibit at the WITF building in Harrisburg from May-June.
Classes: We're taking a break from teaching public make & take classes, but will be offering guest teachers and plan to pick up teaching in the summer/fall. Private groups and private lessons are definitely still accepted and being scheduled.
Wholesale: Another focus of this quieter year will be organizing our wholesale offerings. We will be participating in the Philadelphia Gift Show (not open to the public) in July. Preparing for this venture will mean finally having time to focus on areas of the business that have needed attention, but have not been urgent enough previously. For anyone interested in wholesaling limited metalledwith designs, please contact us.
Internships: We're seeking an intern for 2018. Timing can be flexible and we are willing to work with academic requirements for college course credit. We have a minimum of 100 hours and many perks to offer.
Custom Work: We're working on our second bridal set of 2018 and are thrilled to be creating such one-of-a-kind statement pieces. Custom requests are being accepted! Lead time varies depending on the intricacy of the pieces.
Special Events: We'll still be holding some of these. We often like to have an open studio around American Craft Week in October and around the holidays. Appointments are accepted for visits to the studio to peruse current offerings. We're continuing our participation in Cumberland Valley Arts and artist groups like the PA Guild of Craftsmen, specifically the Yellow Breeches Chapter.
Retail Sales: These are continuing without much effect in 2018. Our bricks and mortar locations can be viewed through an interactive map here on the website.
Online Sales: Throughout all of this change, we have been increasing the quantity of our works available online. You can check out our online store here on our website or go straight to the source at our etsy shop.